Vegetarian/Vegan Dogs and Cats
We are firm believers that dogs and cats can thrive on a vegetarian or vegan diet. Although a little more attention is needed to ensure they are getting all their essential nutrients and amino acids especially L-Carnitine and Taurine.
Our L-Carnitine and Taurine are produced without the use of any animal derived ingredients. They are powdered so you can sprinkle them right on your dog or cat's food. Pets love the taste.
Dosage information to avoid deficiency is as follows:
250 mg L-Carnitine per 10 pounds of body weight.
125 mg Taurine per 10 pounds of body weight.
Divided into two daily servings for best results.
We believe the most beneficial way for your pet to take L-Carnitine and Taurine powder is in a green/algae/superfood drink with Hemp or Flax oil. Divided into two daily doses. Alternately the powders can be sprinkled on or mixed in with your pets food.
Our formula comes in a four month supply for a 40 pound dog. It contains 120 grams of L-Carnitine and 60 grams of Taurine.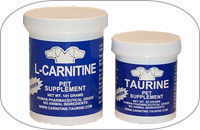 Most affordable L-Carnitine and Taurine supplement on the market so you will have more money for dog toys!
Human Pharmaceutical Grade means your dog will enjoy 100% of the benefits of L-Carnitine and Taurine
Powdered with scoop for quick and easy use
Try it risk free!
My goal is to offer you the highest quality most affordable L-Carnitine and Taurine supplement for pets. I beleive in our product so strongly that if for any reason you are not satisfied just return your purchase within 30 days for a full refund (minus s&h costs).
Order now and for a limited time
I will include the one month supply of Taurine FREE.
Plus FREE, Fast Worldwide Airmail Shipping!
Only $59.99
...